NgSurvey
The Next-Generation Survey Plugin
Send survey invitations and get feedback from your customers and analyze the responses with built-in advanced reports, export data, and much more.
Get started with NgSurvey for your WordPress-powered website!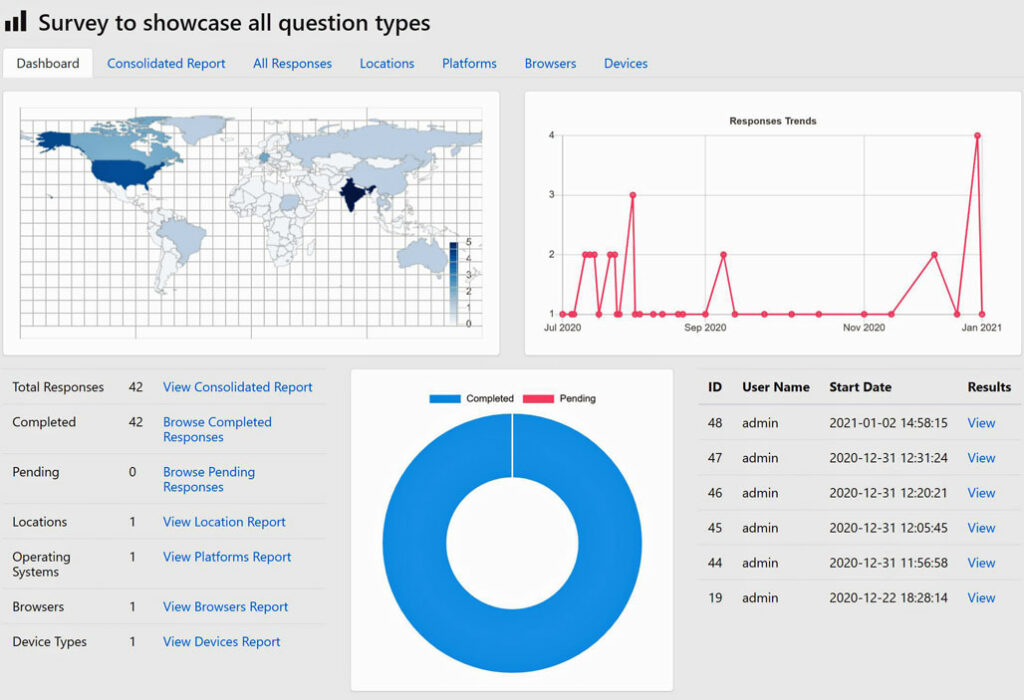 Create Surveys Like Never Before
Get more out of your surveys with extensions and additional question types.
Question Types
17 question types to choose from and customize them with several variations. Starts with simple radio buttons to Net Promoter Score or star ratings and many more.
Conditional Rules
Build advanced skip logic to show or hide questions on the same page or switch between pages or finalize survey. Configure unlimited rules with the rules builder.
Unlimited Pages & Responses
There are no limits on how many surveys you will create or the number of pages and responses per survey.
Survey Campaigns
Build your audience and invite them to take your surveys. Create and send HTML email invitations with a built-in visual email builder.
Automated Emails
Send automated thank you emails to your survey respondents, or send survey invitations when your customers purchased a product on WooCommerce or EDD.
Front-end Authoring
Monetize surveys as a software-as-service business. Let your front-end users create and manage surveys on their own with all the powerful features of NgSurvey.
GeoIP Location
Know the geographic location of your users and visualize the response patterns with different locations. Capture the country, state, and city information of all your respondents.
Download Report
Using external tools such as Microsoft Excel for analyzing your data? Download all your responses to a CSV file and import into your third-party tools.
Import & Export Surveys
Quickly duplicate your survey structure or duplicate surveys by exporting and import them, including questions and conditional rules. Copying surveys is as easy as a click of a button.
Protect Survey Responses
Protect your survey response forms and avoid spam responses using reCAPTCHA. Supports both v2 and v3 versions of reCAPTCHA with a simple setup.
SUBSCRIBE
All Access Membership
All extensions are included. Get updates and support for one year.